A Medical Practice that Focuses on You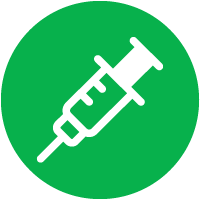 Vaccine Information
Our health center offers the Moderna COVID-19 vaccine for patients aged 6 months and older.
Please call our vaccine scheduling line for more information at 412-489-8003.
A Promise to Our Patients and Our Communities
No matter a patient's age, condition, or ability to pay, our teams of providers serve with compassionate care – striving to improve patient health, create wellness goals and secure a healthly future for the Sto-Rox and Hilltop communities.
Health Care Services
Services vary by location. Visit the Sto-Rox and Hilltop pages for more information.
---
Adult Medicine
We provide comprehensive primary care to patients 18 years and over including preventive services, immunizations, chronic disease management and more.
Women's Health
Quality, affordable healthcare to women at every stage of life.
Pediatrics
Our pediatric providers offer quality, comprehensive primary, and preventive medical care to children from birth to 21 years.
Dental Health
Everyone deserves a healthy smile. Our Sto-Rox Family Health Center offers preventive and restorative services for both adults and children.
Behavioral Health
Our health centers offer one-on-one counseling for adults including psychotherapy and psychiatry services to treat depression, anxiety, grief, and other conditions.
Podiatry
Our podiatry services provide relief as well as helping patients regain their mobility and comfort, to resume and enjoy their daily activities.
Vision Services
Comprehensive eye care services are available for the entire family at our Sto-Rox Family Health Center. Eye exams and glasses are available for adults and children.
Nutrition
Healthy nutrition is important to healthy living. We provide nutrition counseling to help patients to achieve health goals.
Transportation Services
If traveling to your appointment is a barrier, please let the office know in advance of your appointment. Sto-Rox Family Health Center and Hilltop may be able to help you arrange bus travel, or other private transportation.
Please do not let transportation difficulties stand in the way of your healthcare.
Sto-Rox: (412) 771-6462
Hilltop: (412) 431-3520
Our Locations
Sto-Rox Neighborhood Health Council is a Federally Qualified Health Center organization that provides primary care services in two locations. Our Sto-Rox Family Health Center is based in the Borough of McKees Rocks and our Hilltop Community Health Center is located in the Mt. Washington community serving Pittsburgh's Hilltop neighborhoods. Our health centers accept all forms of insurance, and our fee schedule operates on a sliding scale for those uninsured.
| | | |
| --- | --- | --- |
| Sto-Rox Family Health Center | | Hilltop Community Health Center |
Featured News Block
Featured News
Latest News
Featured Events Block