Subscribe to Stay Informed
Back to News
STO-ROX Family Health Center Launches New Telepsychiatry Program
Posted 03/14/20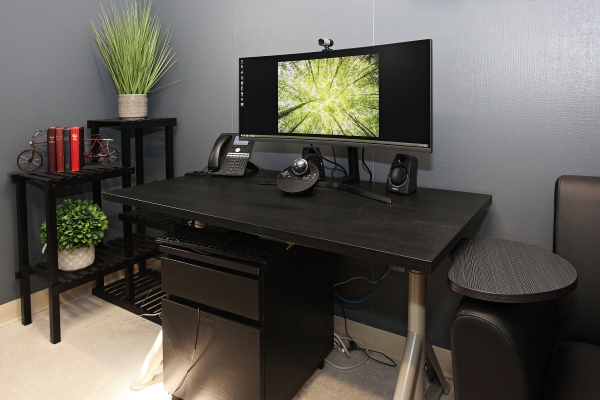 McKees Rocks, PA – Sto-Rox Family Health Center has launched a new telepsychiatry program in March 2019. InSight Telepsychiatry will bring 16 hours a week of scheduled adult psychiatry services.
Telepsychiatry is the delivery of psychiatry through real-time videoconferencing. It is proven to be an effective form of care delivery and a convenient, cost-effective way to safely expand psychiatric support without the challenge of staffing an in-person psychiatry provider.
Sto-Rox Telepsychiatry Room
The telepsychiatry program is launched in partnership with InSight, a national telepsychiatry service provider organization. The program is also partly funded by the AIMS Grant which provides technical assistance funding. The services provided to Sto-Rox Family Health Center will include the same services someone would receive in-person, with the goal of treating the behavioral health needs of adolescents and adults so that they can achieve their potential through a balanced and healthy lifestyle.
"Our team at Sto-Rox is excited to provide telepsychiatry to additionally help our neighborhood and the patients we are honored to serve, while simultaneously taking a step forward to embrace the future of healthcare delivery. As we adjust to changing times, we remain committed to our unchanging mission." – Dr. John Barczynski, CEO of Sto-Rox Family Health Center
Increased access to mental health services is growing need as 57.7 million – one-in-four – people live with mental illness of some sort across the country. The new telepsychiatry program will bring additional access to mental health services to the McKees Rocks community and surrounding areas.
About Sto-Rox Family Health Center
Sto-Rox Family Health Center's staff includes a psychiatrist and licensed clinical social worker. Our services include Diagnosis and Follow-Up, Anxiety, Depression, Grief Support, Healthy Lifestyle Choices, such as those needed to manage chronic conditions like diabetes or high blood pressure, and Stress Management.
About InSight Telepsychiatry
InSight is the leading national telepsychiatry service provider organization with a mission to transform access to behavioral health care through innovative applications of technology. InSight has over 18 years of experience with telepsychiatry and serves hundreds of organizations across the nation with its on-demand, scheduled, connected services and Inpathy divisions. More information can be found at www.InSightTelepsychiatry.com
This project was supported by the Health Resources and Services Administration (HRSA) of the U.S. Department of Health and Humans Services (HHS) as part of an award totaling $2,124,607 with 43 percent financed with non-governmental sources. The contents are those of the author(s) and do not necessarily represent the official views of, nor an endorsement, by HRSA, HHS or the U.S. Government.